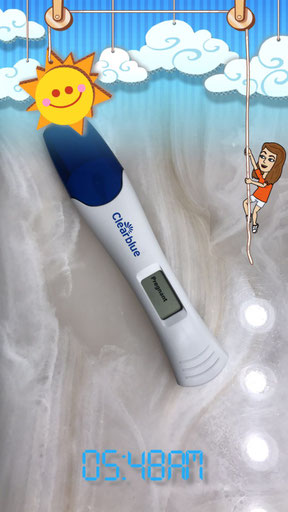 Just a little bit about me before I get into how I got into surrogacy and the journey that I have been on so far.
My name is Dana and I am 29 years old. I have 2 beautiful little girls, a 5 year old and a 1 year old. I have been married to my husband Dan for 7 years! We live in a small town in Minnesota and love every bit of it (maybe not the freezing cold winters). I like to be with my family and friends as much as possible. Some little side hobbies I have is doing crafts, sewing projects, gymnastics, running and recently have gotten into golfing (which I never thought would happen).
How I decided to become a surrogate:
Back in 2013 I ran across an old coworker where I worked. She came walking out of the ultrasound department along with her husband when he said to me, "Yeah she's pregnant and it's not mine!" I kind of looked at him with a confused look. He laughed, she laughed and she explained to me that she was being a surrogate. At that time I never knew anyone that has been a surrogate before. I talked to them for 20 minutes while they answered any questions that I had. I walked away from that conversation thinking, "Wow I want to do that!" Later that day I went home from work and told my husband about it and told him I was thinking about looking into being a surrogate. He was totally thrown off by the conversation that I brought up and told me to do some research. I looked up IARC the next day and sent all my questions and soon after I signed up to be a surrogate.
The next process was the match making! We went through 2 different couples before we found our perfect match. We picked Ron and Micha because their pictures and profile stood out amongst the others. What they wrote about themselves was spot on to what couple that I wanted to carry a baby for. I could tell that they were going to be easy to get along with and great dads one day! Soon after we did our phone call to work out any questions that we had about one another, they flew all the way from Switzerland to meet my husband, daughter and I. We decided to meet at a Cold Stone ice cream shop. I was so nervous. I just wanted to make sure I made a good first impression. From the first handshake I knew that this match was going to work out perfectly. We ate our ice cream and talked and went to a nearby flower garden where we got to know each other more.  After the evening, I felt much more at ease with our decision.  
Pregnancy:
A few months later I started the medications and the planning of the embryo transfer. They transferred two embryos that day in the hopes of twins. Ten days following the transfer I went in for blood work to see if we were successful on the transfer and if I was pregnant. Turns out I was indeed pregnant! We were all so excited that it worked! It was when I was six weeks along when I had my first ultrasound to see just how many babies I was carrying. Was it one, two or even three?  Turns out it was two!!  Just what we were hoping for. As the weeks went by along comes the growing belly. I never carried twins before so it grew at a rapid speed compared to just one baby. There was constant kicks, punches and even baby hiccups. At 20 weeks Ron and Micha decided that they wanted to find out what the genders of the babies were during the ultrasound. We all had our guesses and turns out it was a boy and a girl! Couldn't have worked out any better! The weeks went by getting a little harder as my stomach grew. 34 weeks came when Ron and Micha came to Minnesota to get ready to be daddies! They met me at the clinic for a doctor appointment that day when the doctor told me that I was going to be put on bedrest due to my swelling and my blood pressure was getting on the higher side. The doctor also decided that day that she was going to induce me at 36 weeks. 
Delivery Day:
The day was July 30th. My husband, Micha , Ron and I got to the hospital very early in the morning to prepare ourselves for what was to come! The nurses had me change into the beautiful looking gowns they provide (I'm joking about the beautiful part) and hooked me up to some IV's. Everything started to happen pretty fast after they broke my water. Contractions started to really kick in and I requested an epidural to ease the pain. The nurses and doctor checked me periodically throughout the day until it was go time. I was wheeled into an operating room where I was going to give birth. In the room was a ton of nurses, some were there just in case the babies had to be in the intensive care unit after, there was nurses just in case I had to have a C-Section, some where there for the normal delivery.  Emma was first to arrive. 12 minutes later Eli was born. And they were both perfect! Weighing almost 5 pounds a piece and perfectly healthy. We all couldn't have been more blessed.
Days to follow:
I was in the hospital for two days after giving birth with many frequent visits from the babies and the new daddies! Many thoughts and questions ran through my head days after the birth. How in the world did I just deliver two babies? How did I get so lucky to be Emma's and Eli's surrogate?  And do you think they will ever want to try for more children?