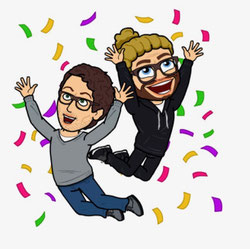 "Are you guys still awake?" When we received this message, I think we answered within a few seconds. Dana was driving at that time, so I got a little confused how she managed taking a pregnancy test while driving. But well, Dana is our superhero, she can do anything! Did we tell you about the first time we met?
I remember meeting her the first time in 2013. It must have been one of our most nervous situations in our lives. We flew to Chicago and drove up to St. Cloud. Of course we saw Dana on a picture and talked already on the phone, but still, we were very nervous. Our Super 8 motel was in a shopping area right behind a Cold Stone (our favourite ice cream shop). It had to be the place to meet and it was perfect. A little sugar high helped us to connect perfectly. Dana, Dan & Paige were the sweetest family, above any expectations. They showed us around town and down at the Mississippi River we had a serious talk about why they wanted to be a surrogate for us. WHY 'THEM'? Well, it was great for us to realize that wanting to be a surrogate was Dana's idea, but Dan, her husband, stood absolutely behind her and supported the idea. When we left St. Cloud a day or two later, we felt like this just didn't happen to us. The Cartier's were such a wonderful family. We remember, that our coordinator at the agency kept telling us, that she will find the 'perfect' match for us. Dana was our first and truly perfect match. We have been on the waiting list for a year and it was so worth it. 
The pregnancy test showed a light plus or a light minus …?  We tried to keep our excitement down, at least until the next morning, since there was no doubt Dana is going to take another test. Even though she told us about some tensions on specific body parts, what was a clear sign (not that WE know, of course) And it was at that moment, when the plus was very clear on that little screen, that we started to jump around in the house. Did we still believe, that this third and last trial is going to end up working? Back then, we felt like we should stop after the second fail. We felt like not wanting to fight with our luck, but on the other hand, Dana said its fine for her to take the medication once more, which made us believe the third trial is going to work. And it did. 
Now we have to wait another seven days to figure out how the baby(ies) are doing. I wonder if its one or two…?